Bull Run Mountains Natural Area Preserve is comprised of 2500 acres in Fauquier and Prince William Counties. The preserve protects unique ecosystems that have more similarities with western mountains with the surrounding Piedmont lowlands. Reaching an elevation of 1377 feet, the Bull Run Mountains are the eastern most mountains in Virginia and an outlier within the Piedmont. The mountains are largely covered in broadleaf deciduous forests. From the mountain's highest rocky, dry ridges and down its forested slopes and lowlands, the preserve provides visitors with a wonderful opportunity to enjoy an uninterrupted and relatively undisturbed gradient of changing communities.
The unique geological and ecological features of the Bull Run Mountains provide safe haven to many common Virginia animal populations, such as white-tailed deer, opossum, raccoons, bobcat, foxes, squirrels, voles and field mice. The preserve also harbors many uncommon residents that are not found in the surrounding areas, including both the common raven (Corvus corax) and the eastern-most population of timber rattlesnake (Crotalus horridus). The unique fauna does not begin and end with vertebrate species, as there are also several rare and beautiful butterfly and moth (Lepidoptera) species that call the preserve home.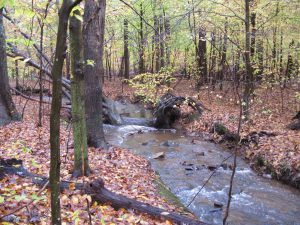 The unique geology and geography of Bull Run Mountains provide visitors to the preserve a chance to see vegetation that is more like that of the Western highlands of Virginia and West Virginia, than what is typically seen within the Piedmont lowlands. Examples include staghorn clubmoss (Lycopodium clavatum), Goldie's wood fern (Dryoteris goldiana), Lesser round-leaved orchid (Platanthera orbiculata) and the Northern starflower (Trientalis borealis).
While hiking around the Bull Run Mountains Natural Area Preserve, you will also observe various trees and shrubs that are uncommon to this region, such as Black ash (Fraxinus nigra) and great rhododendron (Rhododendron maxima). There are also native fruit-bearing paw-paw trees (Asimina triloba) and the endangered American chestnut tree (Castanea dentate). New American Chestnut trees from preserve rootstocks have been reintroduced to the preserve by the American Chestnut Foundation and the Smithsonian Conservation Biology Institute.
For more information, contact:
Joe Villari
Preserve Manager
jvillari@vofonline.org
(571) 438-8957
Leslie Grayson
Deputy Director of Policy and Acquisitions
lgrayson@vofonline.org
(703) 850-3924