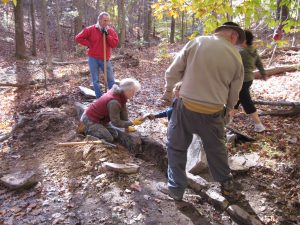 Volunteers are the heart and soul of the Bull Run Mountains Natural Area Preserve. The Virginia Outdoors Foundation has been honored to work with groups by formal arrangement and with individuals on an informal basis. VOF has a formal partnership with the Potomac Appalachian Trail Club (PATC). If you would like to participate in the care of the Bull Run Mountains Natural Area Preserve, there are numerous ways that your time and talents would be welcome.
Trail Maintenance
PATC was founded in 1927 and maintains 240 miles of the Appalachian Trail and nearly 1000 miles of other trails throughout the mid-Atlantic. Since 2010, PATC volunteers have brought their trail construction and maintenance expertise to the preserve's trails. PATC organizes our monthly volunteer trail workday at 9 AM on the second Saturday of every month except August. Everyone is welcome and we are frequently joined by members of other hiking clubs and other outdoor enthusiasts. For more information, please contact Janis Stone, PATC Trail Crew Leader or Joe Villari, VOF Preserve Ranger.
Eagle Scout and Gold Award Projects
Over the years, numerous projects have been completed on the preserve by scouts. Scouts looking for Eagle Scout and Gold Award projects are encouraged to contact our Preserve Manager, Joe Villari, for a list of project ideas and our guidelines.