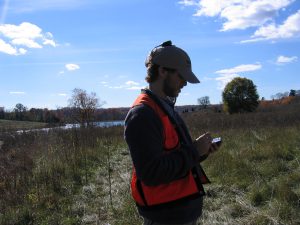 The conservation easement has been signed, notarized and recorded, so what happens next? In order to ensure that the conservation values agreed to in each easement remain intact, VOF keeps up its end of this partnership by conducting site visits to protected properties. These visits become especially important when easement land passes to new landowners, who may be unfamiliar with conservation easements. These visits provide an opportunity for VOF and landowners to stay up-to-date with the continued protection of the conservation values of the easement.
What's Involved?
The Baseline Documentation Report created during the easement donation provides a reference for future site visits. After easement recordation, VOF schedules visits on a regular basis in order to monitor the conservation easement.
A stewardship staff person will contact each landowner by phone, e-mail, or letter in order to arrange a visit. Although it is not necessary for the landowner to be present, we try to coordinate a time that is convenient to meet with the landowner or a property manager because you are often the best tour guide when it comes to walking your property. If it isn't convenient to meet, we try to take the time to discuss the property over the phone.
Site Visits
During the visit, VOF staff take a tour of the easement property, seeing as much of the property as possible. We are especially interested in any changes that have occurred on the property since the last visit, such as new buildings or structures, forestry operations, or changes in land use.
During a site visit, we document the property with:
Photographs of buildings, structures, views of the property, natural features, etc., along with compass readings
Global Positioning Satellite (GPS) data to record photo locations and the sites of any buildings or features of interest
Notes on our observations and any comments from you on changes, plans, or concerns about your easement property
If the landowner or property manager is able to join us for the site visit, we also like to take time to discuss any plans for new construction, forestry, agricultural cost-share programs, divisions or conveyances. If you have any questions or concerns regarding your easement, the site visit is a good time to discuss them.
Monitoring Reports
After the visit, VOF stewardship staff gather the photographs, notes and GPS data and produce a report with maps and photos included. We keep a copy in our files and send another copy to you. If there are any changes or corrections needed, please let us know.
VOF looks at conservation easements as partnerships with landowners who took the extra step to preserve a beautiful piece of Virginia. We know every easement is a gift to be treasured by all, and we look forward to working with you to protect these gifts.