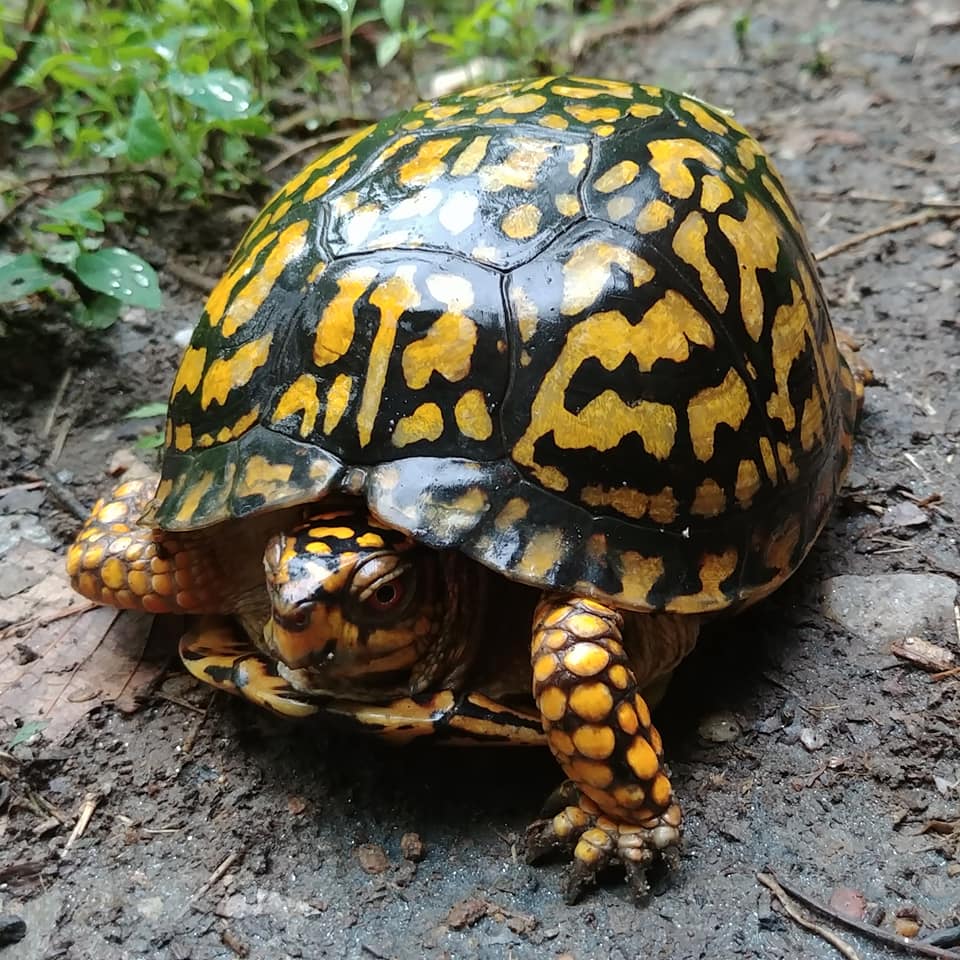 On a recent hike, Preserve staff noted a total of seven mature eastern box tortoises. While such a count would be unusual in most areas, it isn't a rare occurrence at The Preserve.
Why are eastern box turtle populations in such decline and threatened in the state of Virginia? In addition to primary drivers of population decline like habitat loss, roads have demonstrated their devastating impacts on this slow moving, and particularly cautious species. In addition to direct mortality, roads can severely fragment many tortoise and turtle populations.
The Bull Run Mountains Natual Area Preserve, and other natural area preserves like it, provide large swaths of habitat that act as reservoir to feed healthy populations in surrounding areas – serving as both critical core and corridor. Wild spaces that lack roads (and the use of off-road vehicles) are vital to the preservation of species that are particularly vulnerable to vehicular mortality.
We think that this box turtle, with its very yellow coloration, was a particular beauty!
Come out this Friday to the preserve (PRIME BOX TURTLE HABITAT!) and see how many box turtles you can locate! If you see one with a particularly beautiful or weird pattern while out hiking at The Preserve, please do share it with us!
Also, our friends at the Virginia Herpetoloical Society are tracking Virginia box turtle sightings throughout the state. These sighting reports provide vital information, so please consider reporting your sightings to them here:
https://www.virginiaherpetologicalsociety.com/reptiles/turtles/eastern-box-turtle/boxturtle-reporting/boxturtle-reportingform.htm?fbclid=IwAR1nmelsZQg-LKzYxXPbPkW_J4UEtxxslE-Ja5PMZPp3RYq8MfA589hu_cU